What are the top 5 gym exercises of all time?
Welcome back Gym n Japan Fam!
Currently in South Australia, we are in lockdown for the next 7 days! YAY. So we thought it would be a good time to discuss our top 5 favourite gym exercises. Whether trying to build muscle, strength or just look good, these are our favourite exercises.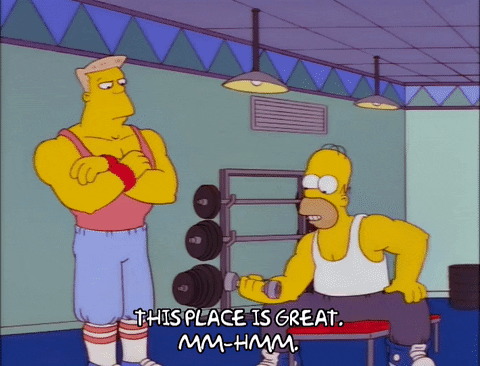 So for me personally (Jake) my top 5 and why have to be:
Deadlift
Up until recent years, I HATED deadlifts. But after practicing them more and more and building to a now 190kg max deadlift, I have come to love it as a strength and muscle building lift in the gym during most of my workouts. Being able to target the posterior chain entirely through the hamstring, glutes and back make it one of my favourite exercises.
Incline Smith Machine Press
This is a super new exercise for me that I have really seen huge benefits from recently. I have undergone a labral repair about 3 years ago now so when I do a normal barbell bench press I get a lot of shoulder pain or don't feel comfortable going heavy with it. The smith machine provides an unbelievable mind muscle connection and is one of my staple upper chest exercises. In the last 2 months of doing it I have seen increased upper chest development and increase in strength overall.
Walking Lunges
Controversial to unpopular opinion, walking lunges are a must for leg size for me. Each training session in the gym on leg day I try to incorporate these or a variant such as the Bulgarian split squat. Why do we all hate them? Because it is tiring and it hurts! But, they have such a benefit, especially for growing a juicy thicc booty. Learn to love them and you won't regret it.
Heavy neutral grip cable row
This is without a doubt one of the best back builders for me. By heavy I mean 6-8 reps. The great thing with this is you can either target the mid back more by staying upright, or the lats through reaching forward and pulling the handle to your belly button.
Dumbbell Lateral Raises
One of everyone's got-to shoulder exercises. They Are effective in providing a good shoulder burn when in the gym. I personally love the mind muscle connection from these and always get a good pump from them, and let's be real, it's all about the pump!
My (Haydon) favourite 5 exercises in the gym each week in my workouts have to be:
Romanian Deadlifts
I have found that these make me the sorest of all exercises and that's why I love them! I can do hamstring curls without getting sore but these are a must for working your hamstrings in the lengthened position. I probably need to do a lot more stretching but I am too impatient.. Overall a great addition to anyone's leg day routine! With this exercise you dont need alot of weight, just make sure you are using the correct technique and you will feel it!
Tricep Pushdown
Honestly love these because it burns quickly but you don't feel like you really have to strain to get them done. Other tricep exercises like a skull crusher is a different movement altogether but requires a lot of control which I am no good at.. Triceps are a very important part of building bigger arms so any exercise is great for them but I prefer the easy exercise (I do the harder ones too btw).
Standing Calf Raises
Not sure why I love them so much. Maybe it's because I don't want chicken legs? Who knows but I love the burning sensation I get when I do them and love going until failure. I am not the biggest fan of seated calf raises because I am locked in and feel that I can't get a full range of motion like I would standing. The trick with building calves is to always change it up whether it's heavier and less reps or lighter and more reps etc. You are using your calves on a daily basis so they are very hard to build so I intend to work them hard.
Pec Deck / Machine Fly
I love this machine because its pin loaded and very easy to use! I have found that it targets the chest so well and a must do exercise if you want a bigger chest! Obviously it's not the staple of a chest workout but a great addition to it.
Front Squat
Only a new exercise that I have been trying recently and has seriously grown on me! I was very hesitant doing it but I now prefer it over a back squat because I feel I can naturally be in a neutral position and put less stress on my back.. Maybe because I use less weight but still I love the exercise! I use the cross arm technique when completing these because it sits easier and I have control of the bar.
Least favourite exercise
Deadlift and the reason is simple.. I am scared of them hahahah One day I will hopefully like them like Jake does.
If you guys have a favourite

#exercise

then feel free to jump over to our instagram and share what you think is either your top 5 or even just your favourite number 1 exercise to train!
Stay Tuned! Posting weekly on Sundays at 6PM :D
Don't forget to follow us on Instagram!